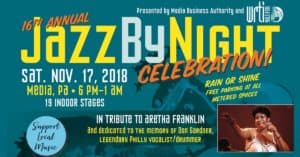 16th Annual Jazz By Night Celebration – Sat., Nov. 17, Downtown Media, 6pm–1am. Every restaurant will have live music to warm up the winter night with hot jazz.
Our 50th EVENT in America's Music Festival Series…
Tribute to Aretha Franklin
-And dedicated to memory of Don Gardner, legendary Philly vocalist/drummer –
Co-Sponsored by Temple University WRTI 90.1FM. Supported by PA Council of Arts.
Media Business Authority hosts its 16th Annual Jazz By Night Celebration, Saturday, Nov.17, 6pm to 1am, at 20 indoor venues in downtown Media.
This diverse Fest of Authentic Jazz features world-renowned musicians & our region's most talented artists. Most perform two or three sets: Performers include:
Bootsie Barnes "B-3 Quartet" with featured All-Stars
John Swana, Byron Landham & Lucas Brown @ Azie (10-12:30)
Denise King Trio @ Stephen's on State (9-12:45) Philly via Paris/France
KMac Trio (MacConnell, Howell & Brey) @ Shere-E-Punjab (7:30-9)
*Eye2Eye Sextet @ Franklin Mint Federal Credit Union (7:30-10) All-Ages-Family Show
Eric Mintel Quartet @ Spasso (10-12:15) California "Cool" School
Hot Club of Philadelphia @ Shere-E-Punjab (9:30-12:30) Acoustic Gypsy Jazz
*Shakera Jones Duo @ Margaret Kuo's (7:30-8:30/9-10) All-Ages
Elliott Levin / Brian Marsala (of John Zorn) @7 Stones Café (8- 11:30) All-Ages
>>>West End Jazz Quarter –
Melissa Martin & Mighty Rhythm Kings @ Sterling Pig Brewery (10-12)
*Russ G3 @ MAC Gallery (7-10)
Jason Newman Trio @ Burlap & Bean (6-9)
Dimitri Papadopoulos @Double-Decker Pizza (5:30-7)(9-10:30)DinnerOnly/All-Ages
Chameleon @ John's Bar & Grille (8-12:15)
Skip Denenberg @ Brick & Brew (10-1)
Bruce Anthony @ Pairing's Cigar Bar (8-11:45)
Lisa Chavous @ Diego's Cantina (9.15-12.45)
*The Carry-Ons @ Desert Rose (6-9) Dinner Seating Only-BYOB/All-Ages
The Midnighters @ 320 Market Café (8-11) Dinner Seating Only /All-Ages
*John Dichter @ TEMAKI Sushi Bar (7-10) Dinner Seats Only-BYOB / All-Ages
*Dann Pell @ House (6-9) Dinner Seating Only–BYOB/ All-Ages
Andrea Carlson @ Lotus (6-9) Dinner Seating Only-BYOB/All-Ages / *first-time acts
Make reservations today at your favorite Media restaurant & enjoy dinner before show!
Adult Tickets: $20 on Nov. 17 /$15 thru Nov.16 (Seniors/Vets: $15 on Nov.17)
INFO/Tickets (VISA/MasterCard): 610-566-5039 / www.mediajazzbynight.com.