National Chess Day
October 13, 2018 @ 10:00 am

-

2:00 pm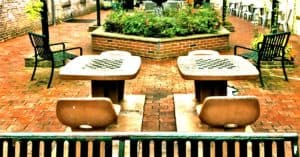 Celebrate National Chess Day in Media!!
Play "Dr. Chess" (Dr. George Chressanthis) for Chess Prizes
Date: Saturday October 13th, 2018
(Rain date is Sunday October 14th, 2018)
Time: 10:00am – 2:00pm
Where: Plum Street Mall
Chess prizes (books, travel pocket magnetic chess sets, and chess pins) will be donated to all kids who play chess games with Dr. Chess. Top prizes will be awarded for those who play the best games of the day.
No entry fee required!!
Chess sets will be provided for all players to challenge Dr. Chess.
Winning not required to get a chess prize!!
National Chess Day was established by President Gerald Ford and first held in 1976. Since then, National Chess Day has been designated on the second Saturday in October. Dr. George Chressanthis has been a long-time outside chess advisor and coach to the Media Elementary Chess Club, having directed previous MES and RTMSD chess championship tournaments. He is a candidate master in the United States Chess Federation, long-time chess teacher, and holder of many titles from the local to national levels, including being a former US Junior Amateur Chess Champion title holder.
So come on out, practice your chess skills, get a chess prize, and have fun celebrating National Chess Day in Media, PA
on Saturday October 13th!!
For more information:
Dr. George Chressanthis
(Cell) 610-308-0142
(Email) gchressanthis@gmail.com
Rain Date Sunday October 14th
RTMSD approved