Everybody's Hometown
The Life and Heart of Delaware County, PA
Media PA  – STILL Everybody's Hometown
Retail stores, salons and service businesses in Media are now open, but with a limited number of patrons in the store. Restaurants may now come out onto the street on approved days, and those who have designated outdoor dining areas may offer outdoor seating.  Restaurant schedules, take out & delivery options change daily so please contact the restaurants directly.  
 Thank you to everyone working so hard to get us through this difficult time to make sure Media stays Everybody's Hometown.  Media Businesses, for information about Plan for PA Business Guidelines visit Media Business Authority.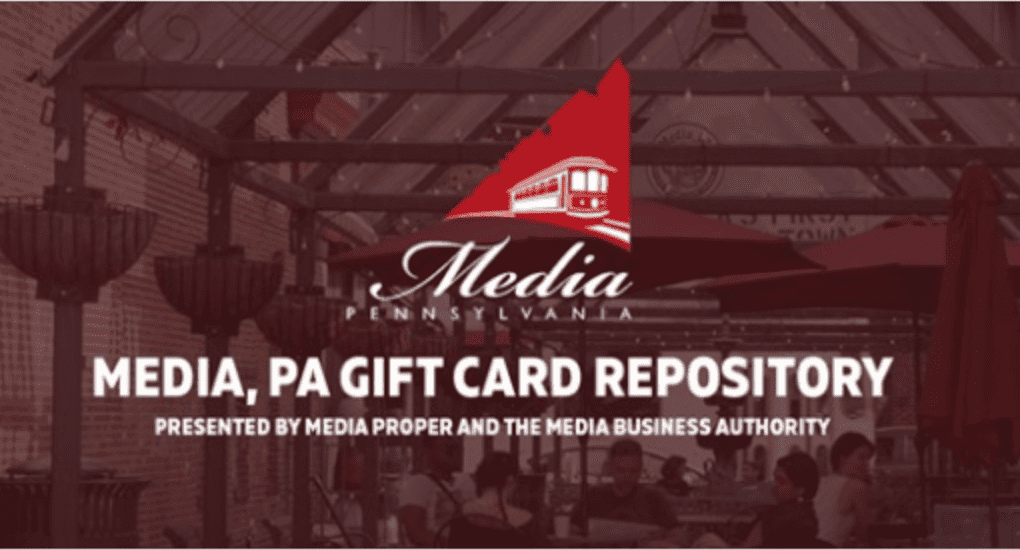 Support your fave stores at the gift card marketplace!  Thank you to Media Proper for the page creation.
Businesses, upload your card and store logo at mediagiftcards.org.

Everybody's Hometown
The Life and Heart of Delaware County, PA
Great Shopping, Fine Dining & Live Entertainment
---
Here you'll find an artful blend of new and traditional, eclectic and sophisticated, international and plain old down-home goodness. Steeped in the history of Delaware County, Media has become the life and heart of the region.
And you will, too! Drawing on the expanded growth from its unique mixture of authentic and contemporary attitudes, Media is the place to be! Don't take our word for it. Read Media's profile on VisitPhilly.com!
Dining Under the Stars
---
Reminiscent of the open-air cafes on Paris' Avenue de Champs Elyseé and in the piazzas of Rome & Venice, al fresco dining is enjoyed in Media all summer long. Every Wednesday evening, May through September, the Dining Under the Stars™ event closes State Street from Jackson to Orange.
Click here to learn more
.
We Invite You to Stroll, Shop, and Dine!
Chinese New Year Celebration
---
Chinese New Year celebration lion dancing will start at noon on 2/17.Margaret Kuo' media is the sponsor for this event. The lion dancing starts at State & Jackson street.
Click here to learn more
.
Come Celebrate The Year of the Dog!
Throughout The Year
---
Media is proud to play host to a series of diverse and exciting events each and every year. The season begins with the Chinese New Year Celebration, and culminates with the New Year's Eve Celebration & Ball Drop… where else can you ring in the new year with a real ball drop? Long-running events like the America's Music Festival Series (Americana Roots Ramble in April, Blues Stroll in June and Jazz By Night Celebration in November) continue to grow in popularity. Throughout the year, enjoy favorites such as the Food & Craft Festival and Santa's Arrival.